Contrary to the internet bombarding everyone with the "new year, new me" mentality, (yeah, we did it too) it's highly likely that some of the mistakes that we're currently making will weasel their way into 2019. Now that doesn't mean that it's worth resigning yourself to the same, cliche mistakes, it just means that it's worth being ready to fail, falter, and then turn a corner to grow and learn!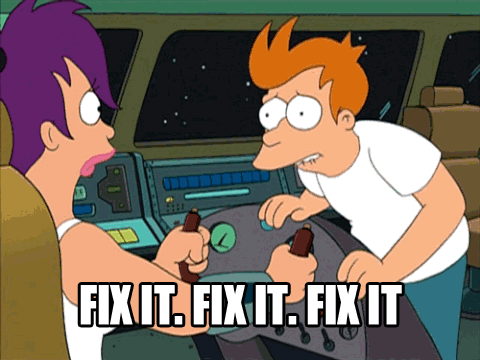 Not Focusing on Applicant and Candidate Experience
The market is currently turned in favor of job seekers and that means that any negative experience could leave them running for the hills…or a competing company. Job seekers are judging you just as much as you're judging them and they're judging you before you even get a chance to talk to them thanks to job postings (we'll get to those in a bit). If you're looking for the best person, and we know you are, you need to provide them with the best experience:
Make the application process simple. PLEASE don't make people fill in their resume information into text boxes and then ask them to upload a copy of their resume. It's a waste of

literally

everyone's time.

Respond in a timely manner whether it's moving them to the next step or politely rejecting them. What should you do if you don't have news to loop them in on? Write to them anyways! Making it clear that they're still in the running and you're still interested in them could keep them from applying to further places until they hear from you. No matter how interested in the position they may be, no one is going to wait around while being ignored.

Have a clear and structured interview process and outline it every step of the way so that candidates can be prepared. If you like them enough to make the jump from applicant to candidate, don't mess it up. Whether you hire after one interview or the screening process takes 30 days, let them know! Keep them informed of who they'll be talking to during which interview and make it clear what the expectations are. No matter how great someone is they can't be prepared without being given a little bit of a heads up first.
Waiting for the Candidates Who Are Just Right
Now don't get the wrong idea, we're not suggesting you just hire the first person who shows up but it's possible that the person who is the best fit didn't meet every single one of your "requirements," so it's worth it to be flexible.
Maybe you've got someone in your pool who is a bit lacking in industry experience but knocked it out of the park with their work samples. Maybe you've got a candidate who has never touched Excel (first of all, ask them how, because it's 2019), but their personality is sparkling and they're a wizard with copyediting. Make sure that what's required on the job listing is actually required and be willing to let candidates show you their drive to learn. Please make sure that everyone on your team is clear on what is actually required and what you have the ability to be flexible on so that you don't send an applicant on an interview where the people interviewing them are on different planets.
And when you've got that good feeling for somebody, fight for them. It's time to start using data to influence hiring managers to move forward with candidates who may not be a perfect fit. This is where the human element of a recruiter can make the difference. Get to know your hiring managers, get to know your candidates, gain trust, and start closing deals that may, on the surface, not look perfect.
Using Outdated Tech and Practices
It's 2019. We're officially beyond the point of posting a job on a job site and seeing what happens, but hopefully you knew that already. Being ahead of the curve with how you reach out to prospective candidates can make sure that you are moved to the top of their "Yeah, I'd like to work for them" pile. You're a recruiter. Do your job and recruit.
You have got to adapt with the times. Utilize technology that's available to you.
(Now here's our shameless product plug.)
That's where TalentFeed and Prophet come in. Go on, click the links and let us make your job a bit easier.
Not Spending Time (or Talent) on Job Postings
All someone has when they're deciding whether to apply for your position is the job posting so MAKE IT GOOD. Make it clear what the expectations for the position are and if you can infuse a bit of your company culture, do so. More and more job seekers are looking for companies that not only provide a stable job, but a place that they can feel valued and be happy to go into work every day so from your first introductions share what you expect from them so that they they can meet, and hopefully exceed, those expectations.
Maybe

avoid bullet points

. Yes, we see the irony in putting this in a bullet point list, but we figure that it's worth showing that sometimes it's worth it and sometimes it's not.

Keep it short. Attention spans aren't long these days and most people are now used to consuming content that is short and to the point (i.e. Tweets) so take that same editing power to your job posting.

Use a clear, concise job title, preferably one that people can recognize as being legit. Most people don't want to be a Word Wizard, they want to be a Content Creator. So stop trying to be cool and just be clear.
This isn't everything that's going to go wrong in 2019. We're all going to mess up and, to be fair, we have no idea what the future may hold. Ultimately, as a recruiter, you're there to get the best person hired and if you have to use bullet points to do that, then do it.
Just think about what you're doing, think about why you're doing it, be efficient and be willing to change when you need to. Just because it worked yesterday, doesn't mean it'll work tomorrow.
Are there other mistakes that you're guilty of? Things you're wanting to work on? Have tips that you want to share? Tweet us: @HiringSolved!