The recruitment profession is growing in prominence. Talent Acquisition (TA) now has over 160 job titles and functions with over 1.8M people titled recruiter on LinkedIn as of February 6, 2019. With all of this distinction, why does there seem to be a growing sense of despair among TA practitioners? Regardless of company affiliation, recruiters and sourcers from agency and corporate seem to be sharing intense concern over the direction of their jobs. They are spending more time than ever direct sourcing candidates while navigating complex systems for what feels like unappreciative business leaders.
This profession used to be filled with folks who loved people, felt a sense of purpose, and showed passion for putting people into great careers.  What factors are affecting us and how can we bring back the #LoveofRecruiting?
Recruiting is and always has been the task of getting someone to join your group or corporation. It is a job filled with human interaction, influence, enlisting, connecting, and enrolling. Sourcing evolved as a function of recruitment to find, obtain, and procure talent so that then they could be enlisted i.e. "recruited."
By 2019, we seem to have accepted the impact of low unemployment rates, hyper-competition, and what some consider "The Goldilocks Syndrome." That painful scenario of "keep sourcing" because the current applicant has "too much" or "too little" experience which is code for – the Hiring Manager doesn't have time to train so the problem becomes the responsibility of TA to fix. The demand is to source for the "perfect/just right" candidate.
Today there are additional demands on recruiters and sourcers related to big data. It is almost as if TA practitioners need to operate like data actuaries; compiling data, analyzing statistics, and mapping insights in addition to posting and filling jobs. Talent sourcers are being asked to operate like researchers, recruitment marketers, and magicians by pulling purple squirrels off of the internet on demand.
Indeed global changes due to the "Age of Accelerations," a phrase coined by Pulitzer Prize-winning author, Thomas Friedman, have added complications. In his recent book, Thank You for Being Late,  Friedman outlines the innovations that converged in 2007; social media, iPhone, and the "supernova cloud" have had dramatic effects on the way we live and work. Friedman contends our frustrations are due to the fact  we have already hit the point where "technology has surpassed humans ability to adapt." Whether Friedman is properly connecting the dots, his points resonate loudly. Admittedly, anxiety is rising at the pace at which our world operates.  Technology is making heads spin and hearts ache.
Perhaps it's a slow death of passion by a thousand clicks.
It is no wonder that Marie Kondo, best-selling author of The Life-Changing Magic of Tidying Up and Spark Joy, is so popular right now.  She says that to increase happiness, "Focus on the things that spark joy and throw away pretty much everything else in order to live a happier, more fulfilling life." The principle works great while cleaning out your closet, but is it practical when it comes to cleaning up our work lives?  It's pretty certain that organizations are not going to let recruiters ignore cluttered ATS and CRM systems because the redundant processes steal joy.  
Social Talent offered How to KonMari Your Recruiting Career by removing what doesn't suit you, and tidying up email clutter. The Talent Cast, a podcast by James Ellis explores Marie Kondo for Your Employer Brand.  James challenges recruiters "to find the way to spark joy in their job postings."

Going to the source, I conducted an informal survey on multiple recruiting Facebook groups. It became a popular topic with over 100 comments in four groups to this specific question: What's the one thing in 2019 that if it changed you'd have more JOY in your day to day job?  
Powerful feedback.  Demonstrating so many distractions to our primary work with other humans.
Warren Buffett Says Your Greatest Measure of Success at the End of Your Life Comes Down to 1 Word, can you guess what it is? Love, Love, and Love. A culture of love in how you treat others, giving love freely in business, and loving what you spend 40+ hours a week doing. Author Marcel Schwantes writes, "Warren Buffett, the millionaire extraordinaire believes that no matter how rich you are if you don't have love in your work, success will be elusive." This is why we need to focus on minimizing the clutter and sparking joy in our daily work in the following ways:
Put technology in its place
Know your technology stack.

Provide input to streamline processes for hiring outcomes.  

Advise your leadership on what clicks are cluttering your work day.

Trust automation. Test it, experiment, test it again. Maximize what a machine can do.
Prioritize human interactions
Schedule voice-to-voice calls in the morning with candidates.

Get out from behind e-wall.  Ask: Can I make a call rather than send another email?  

Change your process so that you get to be a part of making offers to candidates.  These are very human moments filled with joy or empathy (in case of a decline). Either way, try not to miss out on them.

Study

Social Engineering: The Human Element of Sourcing & Recruiting Candidates

, this is an enduring concept adapted by Glen Cathy, Boolean Black Belt.  It will revolutionize how you build satisfying humanistic connections into your work.
Start measuring success based on the people you impact
Check in on a recent hire and learn of their career trajectory.

Spend time guiding an entry-level applicant on resume improvements.

Talk with employee referrals regardless if they will fill a job today. Offer guidance.

Dial the person who didn't get the job and offer feedback.  Here is an article to spark some compliant suggestions:

Giving Feedback to Unsuccessful Job Candidates

.
"I've learned that people will forget what you said, people will forget what you did, but people will never forget how you made them feel.  —Maya Angelou
To sum up a reason "Why" to love this job, there is an an amazing scene in a 2016 movie called A Family Man. It stars Gerard Butler and Alfred Molina, where Butler is a ruthless agency recruiter who struggles with ethics. In this life-changing scene, Molina's character, Lou Wheeler, a 59 year-old Engineering Manager, finally gets the job he deserved, only after the headhunter rights his wrong. We get to see Lou tell his wife he has finally got the job.  The pride wells in his wife's face and excitement in her voice. Wheeler retreats to the bathroom to sob, posture like a champion, and celebrate like a rock star. He will again support his family and have pride in his work.
Recruiters are brokers of serendipity. Opportunity givers. Impact makers.
To never take that for granted, that is the #LoveofRecruiting.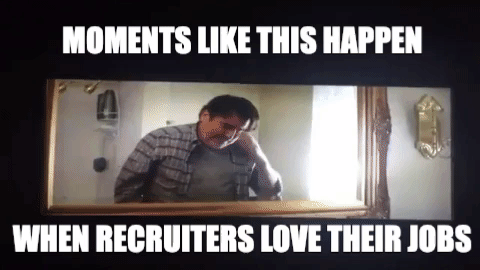 From my recruiting heart to yours.